Following the Footsteps of Brandon Tartikoff One Generation at a Time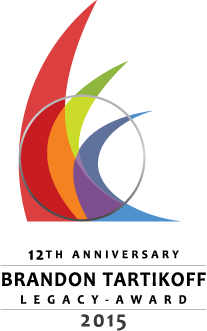 I always look forward to the start of the New Year. People are recharged and energized and there seems to be great business momentum. January also marks the opening of NATPE, set to start next week in Miami. NATPE is the most important international Market and Conference held in the U.S. It is committed to creating a market for the linear and digital communities, as well as advertisers and brands. NATPE breaks down the barriers by setting new expectations and possibilities, and creates the environment where deals get done across every platform.
One can't think of NATPE without also thinking about Brandon Tartikoff.  As president of NBC not only did he deliver amazing ratings but also redefined primetime TV.   Brandon was the producer of shows such as Cheers, L.A. Law, Family Ties, The Golden Girls, Hill Street, Miami Vice and Punky Bruster. He will forever be remembered as one of the most influential personalities of the TV industry.
Every year during NATPE, Brandon's career is celebrated through the Brandon Tartikoff Legacy Award.  The Award was created to recognize a select group of television professionals who exhibit extraordinary passion, leadership, independence and vision in the process of creating television programming and in evoking the spirit of Tartikoff's generosity. My father Gustavo, and I, along with Ted Sarandos, Chief Content Officer at Netflix, Jay Leno, John Murray and Linda Bell Blue will be receiving the award this year. Not only do I feel lucky to be in such good company, I also feel honored to be able to share the award with my father.
Cisneros, the company that I run, was started by my grandfather Diego Cisneros almost 90 years ago in Venezuela.  My grandfather was a true visionary and a restless entrepreneur.  He loved all things American and made a large part of his fortune by bringing American goods to Latin America such as Pepsi Cola and Studebaker cars.   In 1961 he started Venevision, our TV Network which marked the beginning of our foray into media business.
Shortly after starting Venevision, my grandfather had a stroke and my father Gustavo, at the age of 25, took over the network and the rest of the family business.  My father had the great fortune to have trained under Leonard Goldenson (Founder-Chairman of ABC) and his amazing team. At ABC he received first hand training on running a media business which enabled him to grow our media business from a network in Venezuela into a global player. He setup studios and a distribution business to support the network, a model that we successfully replicated in countries like Colombia, Chile and Portugal.  In 1995 he launched DirecTV Latin America and in 1992 he entered the American media market with the purchase of Univision with his partners Jerry Perrenchio and Emilio Azcarraga Sr.
Being part of a family business, it means the world to me that my father and I are receiving the award together. To me, the award acknowledges, the 55 years that we have been in the media business.  It also plays homage to my grandfather, without whose curiosity we would not be here today receiving the Brandon Tartikoff Legacy award.