Creating Leaders in 12 Weeks
I am just returning from Washington, D.C. where I spent two days with the students of the Global Competitiveness Leadership Program. This program, created by the Georgetown University Latin American Board, is a three month intensive course that brings together young leaders from Latin America, Spain and Portugal from the private, social and political sectors. Taught by professors from the business school and the school of Foreign Service, among other departments, the course is designed to give high-impact leaders the tools they need to become agents of change in our region. During their stay the students not only attend classes on leadership, business planning, public speaking, social impact, etc., but also work in teams to create multidisciplinary projects that they can bring back home and work on upon their return. My father was a founding member of the board, a responsibility that I know proudly hold.
It was extremely exciting to get to know all the participants of the 7th graduating class who together represented 17 countries. The projects presented that most caught my attention were:
Human K: An initiative designed to place students that have studied abroad into competitive jobs in their countries of origin. Human K's goal is to reverse the effects of the so called "brain drain" that our part of the world so often suffers from when our students don't come back after graduating from international schools.
CUIDA: An online platform that strives to expose urban problems and provide a tool to fix them. Through the portal you can report on problems affecting your community ranging from inadequate trash recollection to potholes and sewage issue. Once reported, the Cuida team in each city reaches out to the relevant players to make improvements happen.
PIENSA: A platform that aims at bringing innovative ways for corporations to address key issues of sustainability in Latin America.
CoEmprendiendo: A tool that will provide knowledge for Latin-American social entrepreneurs through the publication of original case studies and articles by Latin Americans for Latin Americans.
Prof. com: An online teaching tool created by teacher s for teachers. It aims at improving the quality of education in our region by providing additional training to teachers. In their own words "it's like a Khan Academy for teachers". I am looking forward to working with this team and sharing with them our experience with our own teacher training program called AME.
A special recognition was given to Alejandro Barja from Bolivia. Alejandro was part of the first class GCL students who upon returning home, inspired by his experience at Georgetown, decided to create his own center for leadership development and to date has trained over 1200 Bolivian young adults at FUNBOLIDER (Fundación Boliviana de Liderazgo para la Competitividad Global).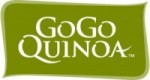 Gogo Quinoa products
This Canadian company was started by Adriana Yaffar, here from Bolivia after graduating from the GCL program. They produce high quality, high-end food products using the super food Quinoa and other ancient grains and are sold worldwide. They do everything right, from sourcing to working with indigenous communities, and adhere to all Fair Trade standards