Go Long Or Go Home, Why I Love Long Distance Sports
I just completed a 20k swim around Key West in the Florida Keys. I was part of a three person relay team  and it took about six and a half hours. My friend Ricky Arriola, a Henry Crown Fellow, invited me to join the race and without any hesitation I said yes and  immediately started training. I have always enjoyed long distance swimming. As a child growing up in the Caribbean, I remember  swimming for hours from cove to cove, pier to pier, island to island so this invitation seemed like a really good idea. I had, however, never pursued long distance swimming seriously until 2014 when I did a 5k swim in Lake Michigan in support of Swim Across America.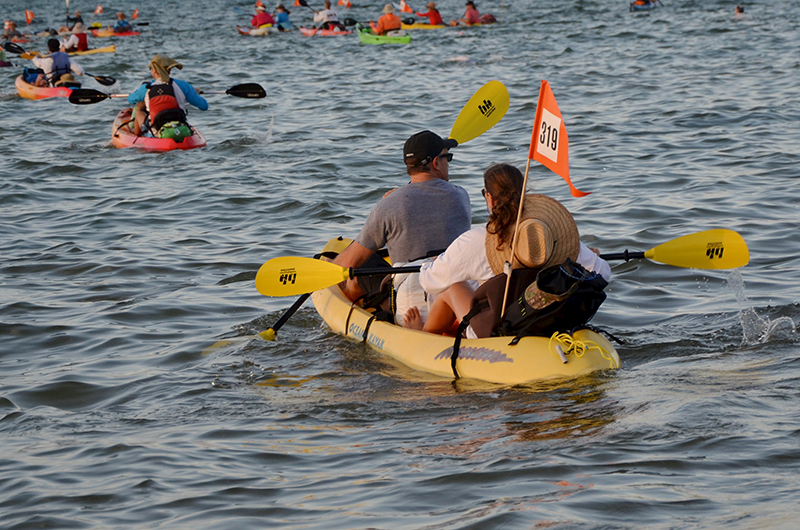 Ricky Arriola and Carolina Jones in their kayak during my part of the relay.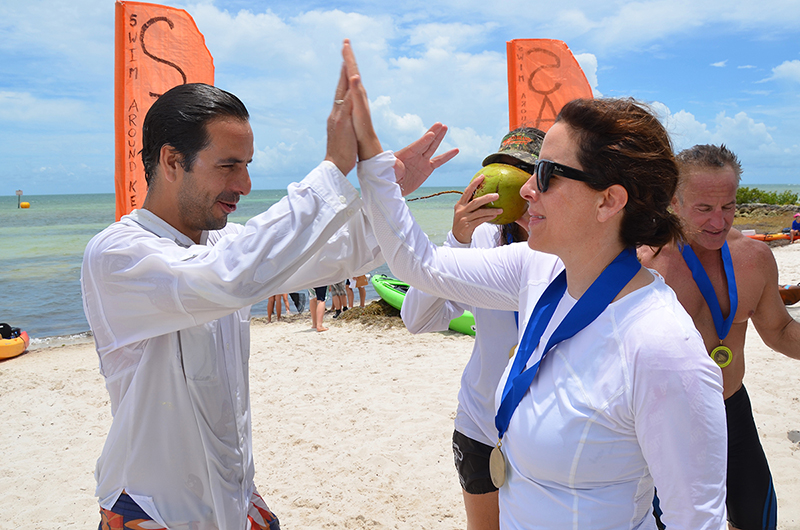 My childhood friend, Oscar Solis, came to man the support vessel. I wouldn't have finished without him.
The swim around Key West was great, tough, fun and painful. I embrace the idea of "living like a local" which to me means interacting with your surroundings. So this swim was the perfect excuse to train in the ocean off Miami Beach where I live and then to spend time in a part of Florida that I don't know much about – The Keys. It was also great to be part of a team. The team made it fun and the sense of comradery that comes from doing something like this is unrivaled. The tough thing for me was that with a mile to go my right eye started hurting so much I couldn't open it. I had to swim with my eyes closed and in excruciating pain. Had it not been for the support of my teammates I would not have finished my part. I don't know if I will do this swim again but what I do know is that I will sign up for another long distance event soon.
I don't know where my passion for long distance sports comes from. Maybe it's because I enjoy the solitude and the silence of a long race, or maybe it's because short distance training seems repetitive – why do laps when you can go for miles? In the end, it's probably because I am an average yet determined athlete.
I am intrigued by the Swedish Vasaloppet, the "Vasa Race", a 90k cross country ski course that is part of the Swedish Classic Circuit. For the "Vasa Race" you swim, cycle, run and cross country ski very long distances over the course of the year.  I would love to complete the circuit, but training in the tropics for a Nordic race might prove difficult. I would love to run a trail marathon in the mountains of Colorado and I would also like to swim across the Orinoco River, one of the world's largest rivers. Every year in my home country of Venezuela they host a famous 3.1k race on the Orinoco River. Because of the changing currents and rapidly moving waters, there's a lot of strategy involved in this race. This makes the swim very difficult but I like that because it's an event that is never the same from year to year.
In the end though, it's not about the event itself but about the training. Ultimately, I sign up for these races so that I feel inspired to stay fit and be healthy.  If it wasn't for a race I would never wake up at 5am to go swimming in the dark ocean. If it wasn't for a marathon I would never have joined a running club in NYC in January and run in Central Park in 15 degree weather. The challenge is what I crave.