Novelas and Social Merchandising
A few days ago we invited The Nature Conservancy to advise the writers, production team and cast of one of our current drama productions, "Corazón Esmeralda," whose ecological context provides an excellent platform to raise awareness of the audience about the impact that our actions and daily habits have on the environment.

The use of television as a means of education, and in particular the creative process of teaching through entertainment, has been growing and developing over recent decades.
In the '90s, Brazilian novelas (dramas), recognized worldwide for their high-quality production, began using what has since been proven as an effective strategy for social change through the characters and plots of this type of programming.
Studies conducted by the Inter-American Development Bank (IDB) in 2009 indicate that the novelas by Brazil's Globo helped shape the female viewpoint on marriage and family. This study also reveals that realistic depictions of the lives and aspirations of the hard-working middle class are key elements of the novelas that create role models and provide inspiration within television entertainment.
Similar to "product placement," which is prevalent in the industry and which achieves a natural integration of commercial products in production, social awareness or "social merchandising" is achieved through a variety of strategies including through the incorporation of elements into the set or by curating the behavior of the characters and their attitudes towards certain social issues, without altering the main plot of the novel.
Venevision has not lagged behind in this effort.  Since the late 90s, we have been taking advantage of opportunities to expose the audience to social causes through our novelas. A wide range of social issues have been addressed, including violence against women in such productions as"El país de las mujeres"  (The Land of Women) (1997) and "Vieja yo" (Old Me) (2008); overcoming adversity through hard work in "Voltea pa'que te enamores" (Turn Around So You Fall In Love) (2006); and the prevention of diseases such as HIV / AIDS, Alzheimers and breast cancer in  "Amantes de luna llena" (Full Moon Lovers) (2000), "Ciudad bendita" (Holy City) (2006) and "La mujer perfecta" (The Perfect Woman) (2010).
The genre of novelas and other dramatic productions in Latin America have a large following and experience high ratings thanks to being part of the daily routine of most households in the region. For media, who are often blamed for having a negative impact in the communities based on their violent and sometimes racy content, this offers an important opportunity to contribute to the betterment of society.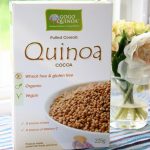 Gogo Quinoa products
This Canadian company was started by Adriana Yaffar, here from Bolivia after graduating from the GCL program. They produce high quality, high-end food products using the super food Quinoa and other ancient grains and are sold worldwide. They do everything right, from sourcing to working with indigenous communities, and adhere to all Fair Trade standards.
Magna Porta