#SoyCapaz, Generating Real Change in Colombia: A Call for Peace
During a recent visit to Colombia I was struck not only by the dynamic business environment but by a new and novel initiative; the #SoyCapaz campaign "I am Capable". The campaign which was started by prominent business leaders of the private sector in Colombia, together with athletes, artists, and journalists urges people to reflect on what they can do to make the country a more peaceful place and to consider how they might be able to contribute to bringing an end to nearly 50 years of war.
So far one of the most impressive milestones of the #SoyCapaz campaign, sponsored by ANDI (the National Business Association of Colombia), has been getting competing media outlets in the country agreeing to jointly host a radio program that openly talks about ways they can help achieve peace. Renowned Colombian radio hosts, Julio Sánchez Cristo, Darío Arizmendi and Hernan Davila, Vicky Pelaez to name a few, all participated in the live one hour program that aired in Colombia.
The outreach of the campaign is impressive; 158 of the largest and most important local and multinational companies in Colombia have joined the cause.  The statistics in just 2 months are equally impressive, the website (https://www.soycapaz.org) alone has had 20 million views, 150,000 tweets, 600,000 views on YouTube and a reach of 500,000 people sensitized to movement.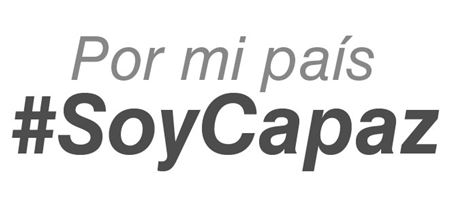 This novel idea created quite a challenge for the communication and marketing departments of the company's participating in the initiative. In just a few days all the companies involved had to come up with a new slogan and color schemes that included the phrase "SoyCapaz de" or "I am capable of …" Company's came up with creative messages around the themes of reconciliation, forgiveness and peace. They adapted all their flagship products by changing the color scheme to white and incorporating the tagline of the campaign. As you can imagine, the campaigns had a massive influence on a national level and served as a call to action for many others to join the cause.
There is no doubt that this initiative is a game changer. It is rare for an entire business sector of a country, together with civil society, athletes, artists and journalists to come together for a common cause. This seems to be a tipping point for a country that is clearly poised for radical change.
Beyond the benefits that this will ultimately have for Colombians, I believe that companies who join such efforts also benefit tremendously; they garner the attention of customers with wide media coverage, creative and new advertising and public relations campaigns that positively spotlight them. It also reconfirms a company's commitment to social projects which significantly increases their image and reputation within the country.
Time will tell whether there can be a long term and sustainable effort for this initiative but one thing is for sure, that cases like #SoyCapaz show that more and more people realize that changing a country is in their hands and what they are able to make from their own environment?