21212: Accelerating Latin American Start-ups
The use of business incubators in Latin America is a good way to get new companies to achieve success through specialized mentoring.  This mentoring encourages new business development and entrepreneurship, helping to stimulate positive changes in the society and the economy of a country.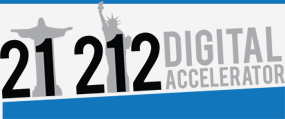 This is why I am so proud to be a mentor in the 21212 Digital Accelerator Project, which seeks to assist in the development of startups, specifically in the digital sector, in the Brazilian market at the most critical moment: the beginning. Technology-based companies have a huge potential in Brazil, which offers both challenges and opportunities for them.
While accelerators are not a new concept, the biggest differentiator of this one is the connection that is being made between Brazil and the U.S. This is being accomplished by engaging mentors from both Rio de Janeiro and New York that will help the startups. The two cities continue to gain importance in their countries and the world, hence the project name: "21 212″: 21 is Rio's area code and 212 is New York's.
The main activity, of which I'm part of, is mentoring 3 companies from Brazil that are working to develop business in Brazil. Each mentor works closely with three companies to share with them their experience and to guide them through the process; to move from the empirical to the practical, helping them find the right strategy.
The selection process of candidates began in July, and 21212 received 115 applications from all around the country. After an intense month-long interview process, 20 companies presented their projects to a panel of eight judges. Half of the judges made special trips from the U.S. to Brazil just to be able to participate in the selection process. In the end, 10 startups were selected and they are already participating in the first stage of acceleration at 21212.
I would like to invite you to meet the 10 companies that are part of this first generation:
These enterprises are on the road of preparation for the Demo Day, scheduled for February 2012, about which I will give you more details as the date nears.