CES: New Year, New Trends!
Every couple of years I make it over to Las Vegas to CES for a two day technology boot camp. CES is the largest consumer electronics fair in the world and it's the prime event where best in class technologies are presented. I "walk the floor" learning about the new solutions that are available to make our content better – from new HD video cameras to distribution and hosting systems. I also spend a lot of time just trying to understand what the new trends that will shape our daily lives in the years to come are.
This year the big trend came from "wearables", or technologies that you wear to consume and produce data. Of course, there was Jawbone, Fitbit, and the Pebble, but there were also some really new neat applications to this trend like the Mimo baby monitoring system https://mimobaby.com/ which is a onesie baby's use when they sleep which continually checks key vital signs.
At the Qualcomm booth I learned about the Formula E cars. Beginning next year there will be a race just like Formula 1 but for cars that are 100% electric https://www.fiaformulae.com/. What I liked most about this idea is that they are working on a wireless charging plate that would loop under the racetrack so the car can charge while it races. https://www.qualcommhalo.com/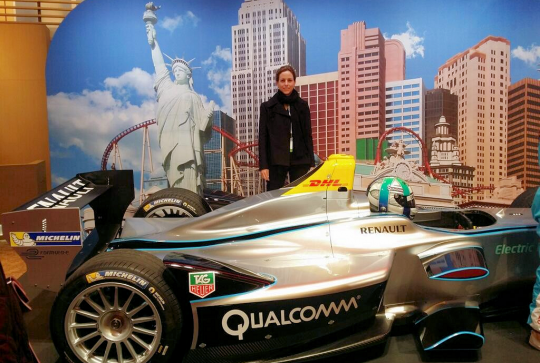 The star of the show was the Oculus Rift, a next-generation, virtual reality headset designed for immersive gaming. The company got its initial funding through Kickstarter and it's nice to see how well they have done. The player puts on goggles through which they see and play the game. It feels so real that they are now thinking of using the technology to help train doctors on how to perform surgeries, pilots for flight simulations, etc. https://www.oculusvr.com/
I am fascinated by companies that manage to transform themselves in order to survive. Companies that can let go of their core product to grow in a different and more promising field. Parrot, out of France is one of those. Parrot started as a Bluetooth headset company  but is now the leading personal and recreational drone company in the world. https://www.parrot.com/usa/. They have designed playful drones like the Parrot Jumping Sumo, but the one I loved was the Sense Fly. A drone designed for professional mapping, surveying and photographing of the earth.  (https://www.sensefly.com/home.html)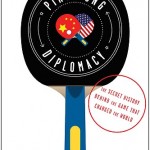 Ping Pong Diplomacy by Nicholas Griffin
This book tells is the story of how Mao came about Ping Pong, made it into a national sport and how it became his strongest political tool. The story is told through the life of Ivor Montagu, an English double agent spy who worked for the Brits, the Russians and the Chinese and also the man who took Ping Pong to china. www.nicholasgriffin.com