Honoring a Visionary: Celebrating Patricia Phelps de Cisneros Impact on the Arts at the PAMM IWC Annual Luncheon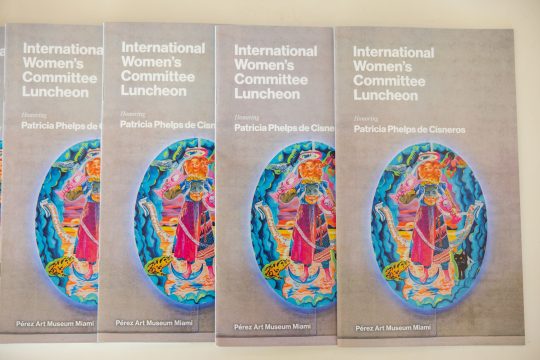 I was so happy to attend this year's International Women's Committee (IWC) luncheon hosted by The Pérez Art Museum Miami (PAMM), where my mother, Patricia Phelps de Cisneros, received recognition for her lifelong contributions to the art world. Beyond the pride I feel for her achievements, I've always seen her as a trailblazer, particularly when it comes to her work in education, philanthropy, and art.
Four decades ago, she bravely stepped into the world of art when she co-founded with my father Gustavo Cisneros, the Fundación/Colección Patricia Phelps de Cisneros, and has since evolved into a powerful advocate for those overlooked in these spheres.
Hearing her acceptance speech as the 2023 IWC Honoree, I found myself immersed in the wisdom she shares, not only with me but with anyone open to listening. Her words served as a reminder that our journeys are interwoven, that every story is built on contributions from many people, and that nurturing connections, seeking guidance, and embracing collaboration are the cornerstones upon which we build each other up, moving beyond competition towards a horizon of collective success.
My mother's journey was never a solitary one. During her speech she paid homage to the incredible women who mentored her, such as Sofía Imber and Virginia Pérez Ratton, and reflected on her mission to amplify the many voices echoing from the rich cultural tapestry of Latin America. Her words vibrated with the power of inclusivity, "People say that the future is female, but I would argue that the past is too." It's a testament to the often-overlooked truth that women have always been shaping our history; they were the pillars, even when the world wasn't watching. Below, I share some of the heartfelt words from her speech.
Thank you so much to Darlene Boytell-Pérez, the Board of Trustees and the entire PAMM team for this acknowledgment. PAMM is more than a museum; for many of us, it represents a vital piece of the vibrant city we cherish as our home. I am hopeful that together, we will continually strive to honor and elevate Latin American art and culture, and I eagerly anticipate a future where women's contributions are recognized and celebrated at every juncture.
Thank you, mom, for the inspiration and insights you've imparted throughout your journey. The world is undeniably a better place because of you."
People say that the future is female, but I would argue that the past is too. When I was putting together our mid-century Latin American modernist collection in the 1990s, many of the obligatory names were women: Gego, Mira Schendel, Lygia Clark, María Freire. This was not revisionism; those names have been central to the story of Latin American modernism since day one. If one were to contrast the art history books of Latin America with those of the United States or Western Europe at the time, the humongous gender gap is strikingly clear.
And this was the case not just for artists, but also for museum directors, collectors, art historians and gallerists. Among the many mentors who helped me along my path. I would like to remember especially Sofía Imber, whose daughter is here with us today, and a former honoree of this committee, who built one of the most important museum in Venezuela, and was a patient and forceful teacher for me as I was finding my way through modern and contemporary art forty years ago. I also owe a huge debt to Virginia Perez Ratton who opened the doors of Central American contemporary art to me, and who became a tremendous role model for how to create alliances and build bridges between Latin America and the rest of the world. To this list I could add so many names, but I know our time is short.